ABOUT TLQMC
The Trilogy at La Quinta Men's Club (TLQMC) was established in 2004 with an initial membership of about 10 players. The Club membership now stands at over 150 members.
The purpose of the Club is to promote interaction and good fellowship among members, and encourage active participation of the members in the game of golf in accordance with the rules of the United States Golf Association (USGA) and the Southern California Golf Association (SCGA). The Club holds regularly scheduled golf events on most Mondays and also holds a number of tournaments throughout the year. The full schedule and calendar of events is provided on the Club website and is available for viewing and downloading by members.
The affairs of the TLQMC are governed by a Board of Directors consisting of nine (9) Members.  The elected Officers of this Club include:  President, Vice President, Secretary, Treasurer, Tournament Director, Handicap Director, Membership Director, Monday Coordinator and Website Manager. All Officers are elected by a vote of the general membership, and serve without compensation.
The TLQMC has established Bylaws, which have been revised from time to time and approved by the membership to provide guidance and direction to all Officers and members to comply with the Community Association Articles of Incorporation, Bylaws and Club Rules, Regulations, and Procedures.  The TLQMC is organized and operated as a nonprofit association in accordance with California Statutes, and the Bylaws of the Community Association. The Bylaws of the TLQMC are available on the club website to all members, and prospective members.
The TLQMC website includes many other club documents of interest to members and prospective members. New members should contact the Membership Director for membership information including, standing club rules, SCGA dues, annual pass details and application forms.
Membership is open to all residents in good standing of the Trilogy La Quinta Maintenance Association.
To play in Club golf tournaments membership in the Southern California Golf Association is required.  Please check the Bylaws for any other restrictions.
For additional information about the TLQMC contact any of the officers listed below.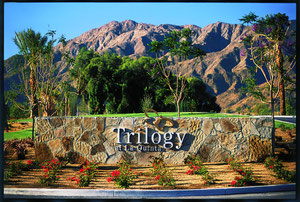 TLQMC - TRILOGY LA QUINTA MEN'S CLUB

Home Course: Coral Mountain Golf Club
                        60 151 Trilogy Parkway
                        LaQuinta, CA 92253
                         (760) 771-0707
SOME USEFUL LINKS:
Southern California Golf Association (Useful for checking latest indexes, posting scores and viewing handicaps)
 Some great local courses:
"The essence of being human is that one does not seek perfection."
- George Orwell -